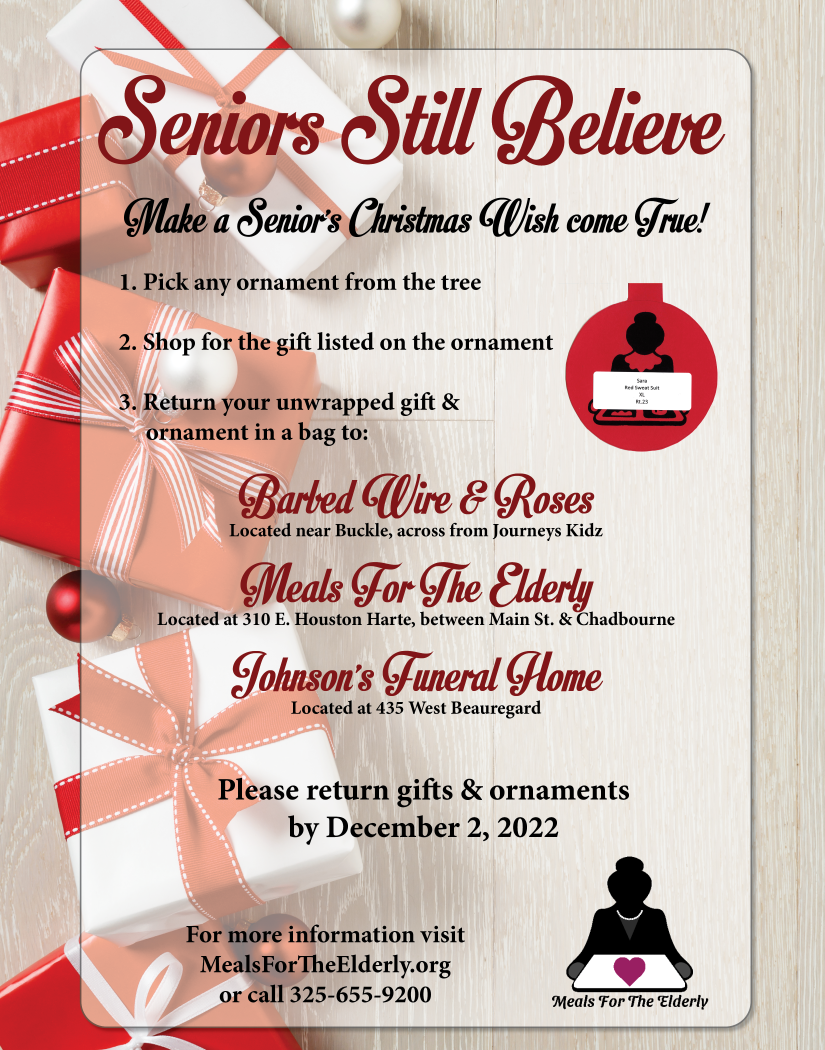 The 14th Annual Seniors Still Believe Campaign will run from November 2nd through December 2nd 2022. During this time, we partner with the Sunset Mall to help make sure our elderly clients experience the warmth of the season this Christmas by asking the community to fulfill a senior's gift wish so that they can have at least one Christmas gift.
There is a Christmas tree will be set up in the Sunset Mall with ornaments. Each ornament displays a homebound elderly individual's name, Christmas gift wish, and sizes if necessary. The community is invited to pick an ornament off the tree and shop for the client's Christmas wish.
Then simply drop off the ornament with the gift at any of the following locations:
Barbed Wire & Roses at the mall (located in Sunset Mall, next to Buckle)
Meals For The Elderly office (310 E. Houston Harte)
Johnson's Funeral Home (435 W. Beauregard)
We ask that all items and ornaments be returned by Dec.3rd to ensure the client on each ornament receives their gift by Christmas. We will wrap and deliver these gifts with the help of our AMAZING volunteers!
We are also accepting donations of LARGE Christmas gift bags so that the gifts can arrive with the look and feel of a Christmas gift and smaller donations of "stocking stuffer" style items (listed below). These will be a welcome addition to the larger gifts seniors are asking for this year. Thank you for your support!